Access PHOENICS, the Original, All-Inclusive, Cost-Effective, Enterprise-Driven CFD Package, on the Cloud
CFD, a billion-dollar industry, is used worldwide to enable those interested in, or working with, all types of flow to move easily & seamlessly from design concepts to innovative, cost- effective, solutions.
PHOENICS is an all-inclusive Computational Fluid Dynamics (CFD) package. PHOENICS is flexible, accurate & reliable. It can be scaled to meet small-business requirements. It sharpens the User's competitive edge. It is the original general-purpose CFD Code - developed, tested, validated & extended over 40 years by its originator & CHAM team.
There is not much that we at CHAM do not know about CFD & all types of Fluid Flow; PHOENICS covers the A to Z of CFD from Aerodynamics to Zeppelins. It has the longest history in CFD, is the best validated CFD package, & has a large, diverse, international user base.
PHOENICS on the Cloud (PHOENICS-OTC) allows you to pay only for computer time you use or need on Virtual Machines (VMs) ranging from dual- to 120-core options via the Microsoft Azure Marketplace: https://azuremarketplace.microsoft.com/en-us/marketplace/apps/concentrationheatandmomentumlimited1616154387047.phoenics.
You can check, economically & quickly, how it can help with whatever problem you are addressing. PHOENICS can be used, with ease, by all - Engineers, Developers, Students, R&D personnel, and others. It has:
1) Expert modelling features for multiphase flows, particle tracking, free-surface modelling, chemical reaction, moving grids, fine-grid embedding & more.

2) An extensive battery of built-in turbulence models for great flexibility when modelling complex systems.

3) Ability to expand via user-defined inputs made easy by built- in features, ie InForm, MOFOR, PARSOL.

4) Expert user-support for all maintained users.
If you prefer to use the code in-house you can find out about PHOENICS licences priced flexibly to suit Academic, R&D, & Commercial Users at sales@cham.co.uk.
The graph shows scaling achieved for 2 sample cases of 9 million computational cells & 24 million cells respectively when run on various multi-processor systems.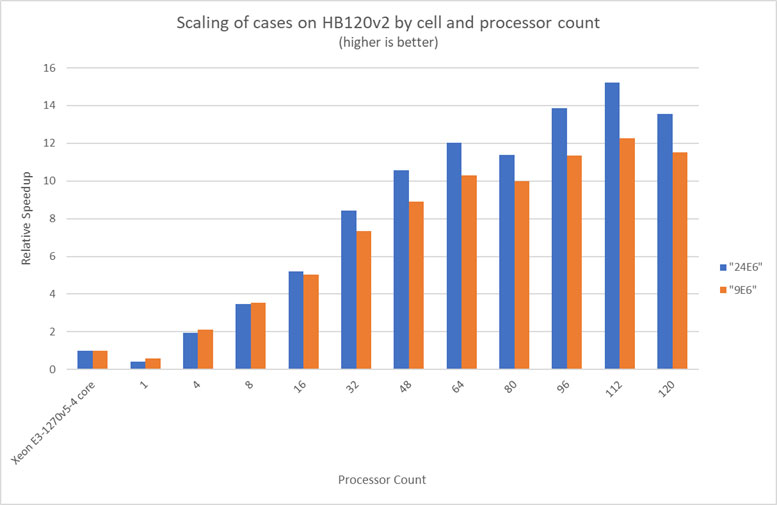 Similar benefits can be achieved when running multiple cases simultaneously. The graph gives performance figures for running several cases on a 120-core VM.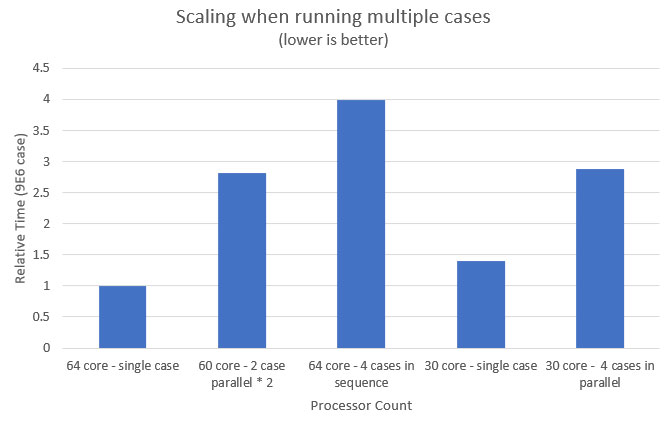 PHOENICS On The Cloud (PHOENICS-OTC)
Whilst a 120-core VM provides quick results for a single case, running 2 cases concurrently using (say) 60-cores, or 4-cases using 30 cores, achieves cost savings of >25%. Consequently, although cost-per-hour is notionally higher when using larger multi-core VMs, they can be particularly cost-effective for running multiple variations of simulation (eg investigating multiple-wind conditions over a cityscape.)
---
More Information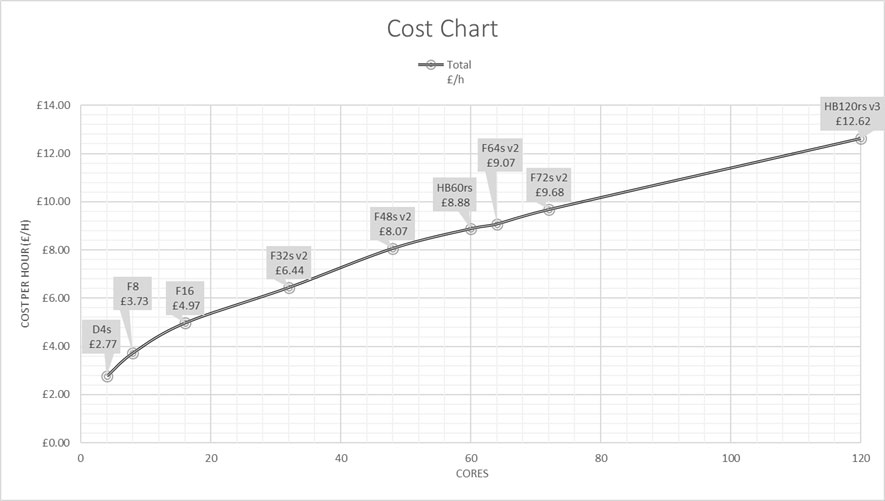 Further information regarding PHOENICS-OTC can be found at the following links.
Microsoft Azure Page
Encyclopedia Page
FAQs
Brochure