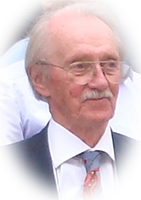 Professor D Brian Spalding (1923-2016)
We are sorry to announce the sad news that CHAM's Founder and Managing Director,
Professor D Brian Spalding, passed away peacefully on Sunday 27th November.
Brian was a most remarkable man and his contribution to computational fluid dynamics was profound.
He had a long and productive life and his scientific legacy will remain prominent within the academic
and engineering community for many years to come.
Our thoughts are with his wife, Colleen, and the family at this sad time.
CHAM Vacancy

CHAM has a Software Developer vacancy in its CFD Applications Department in Wimbledon

PHOENICS

PHOENICS is a reliable, cost-effective CFD program with a proven track record simulating scenarios involving fluid flow, heat or mass transfer, chemical reactions and combustion for a wide range of applications.

Data Centres

DC-Optima is CHAM's datacentre specific CFD tool which will enable you to optimize the cooling and ventilation performance of your datacentre. Try our demo today!

RhinoCFD

CHAM brings the power of CFD to all Rhino users, allowing them to build, define and test their models without leaving the Rhinoceros environment

Environmental

Our specialised software, Urban-VWT, can help architects and building engineers understanding the impact of a new building by helping simulate flow in urban environments.

Chemical Vapour Deposition

PHOENICS-CVD is an integrated software system designed to simulate the behavior of a wide range of CVD reactors.

Aluminium Smelting

PHOENICS ESTER is a special-purpose adaptation of PHOENICS, developed to simulate multi-anode electrolytic smelters of the Hall-cell type.

Heat Exchangers

HeatEx simulates the thermal performance of shell and tube heat exchangers. It provides pragmatic aid for designers and manufacturers to develop more efficient and cost effective heat exhangers.

Newsletter

The latest news letter is now available.

FLAIR

FLAIR is a PHOENICS variant which provides an air-flow and thermal-simulation facility for the HVAC community, and for those concerned with fire, smoke and pollutant hazards, for internal and external flow scenarios.